How To Register:
All 3 forms are required in HARD COPY are required 1 time each new year
Mail or bring in the forms and full payment to:
(DPAC) Dana Point Aquatics aka Aloha Swimming
34232 Camino Capistrano
Dana Point, CA 92624
Registrations and payments may be put in the US mailbox on the curb in front of the business anytime as it is a lock box. We have a locked box on the pool deck for renewals or when the front gate is unlocked.
Registration Procedures
Please open the Registration PDF so you can see how you choose your days and time frame.
Write in all the first session you want to start, the days and time frame you are available. Write the earliest and the latest times you can be at the pool. The schedule is made based upon your entries.
We need correct swim levels as described on our swim lesson page.
Please write in the instructors name if you have a preference.
Classes are formed when we receive everyone's completed Registration form, Policy form and Pool rules with full payment.
You will be notified by email with a tentative schedule approx. a week before the session starts. This is your opportunity to make any changes.
The final schedule will go out by the weekend before the session starts. No changes at this time.
Once you have secured a spot you can keep it as many sessions as you like. or have priority of changes. If you need to skip a session you many need to go back on the wait list when you start back up.
How classes are formed:
When all registrations forms and payments are turned in, we match students by age, ability, days and timeframe that you requested. This is a time consuming process but it gives you control over the days and times you want or need.
Approx. 1 week before the session starts, a tentative schedule will be emailed for your review. This is the last opportunity you have to make any changes. We try hard to accommodate changes if we can. So please write correct days and timeframes on your form. A final schedule will be emailed by the weekend before the session starts. Changes cannot be made at this time.
Registration Due dates
We only accept registrations no more than 3.5 weeks before each session starts. No registrations accepted before that please. Late registrations, less than a week before the session starts, get left over times or placed on a waiting list. You will not get a tentative schedule to review, but will be emailed a final schedule.
Waitlist
In our busy swim season, April to Oct M to Th 3-6pm, we have a waiting list that you are placed on until a spot becomes available for the days and timeframe you request. We will not cash checks until you secure a spot to your liking. The more day and timeframe options you give us the better opportunity you have to get a spot. so if you can, try to work outside these hours if a spot is not available. The first time you register it is best to pay with a check to DPAC that we will hold until a spot opens for you. We will never keep your payment if we cannot find you a suitable class.
Renewals
Have priority of days and times and payments are due no less than 2 weeks prior to the new session starting or you may lose your spot. We require a written renewal form if you need to change your days and times or pay with cash. Otherwise you will be rolled over into the same days and timeframe as your original form said.
Payments
Full payments are required with the forms to be worked into the schedule. Zelle to alohaswimming@gmail.com Check to Dana Point Aquatics Cash in an envelope with the forms or renewal notice
We will never keep your payment if we cannot find you the time frame on the days that you requested on the registration form. We will ask or offer you options if those times are not available before we cash your check.
Contact:
Aloha Swimming
at the Dana Point Aquatics Center

34232 Camino Capistrano
Capistrano Beach, CA 92624
Telephone: (949) 661-0708
e-mail: alohaswimming@gmail.com
2023 Session Dates
All sessions are 4 weeks long
Feb 13 - March 10
March 13 - April 7
April 10 - May 5
May 8 - June 2
June 5 - 30
July 3 - 28
July 31 - Aug 25
Aug 28 - Sept 22
Sept 25 - Oct 20
Oct 23 - Nov 17
Nov 20 - Dec 15

If the session falls on a holiday please check with your instructor for the holiday schedule.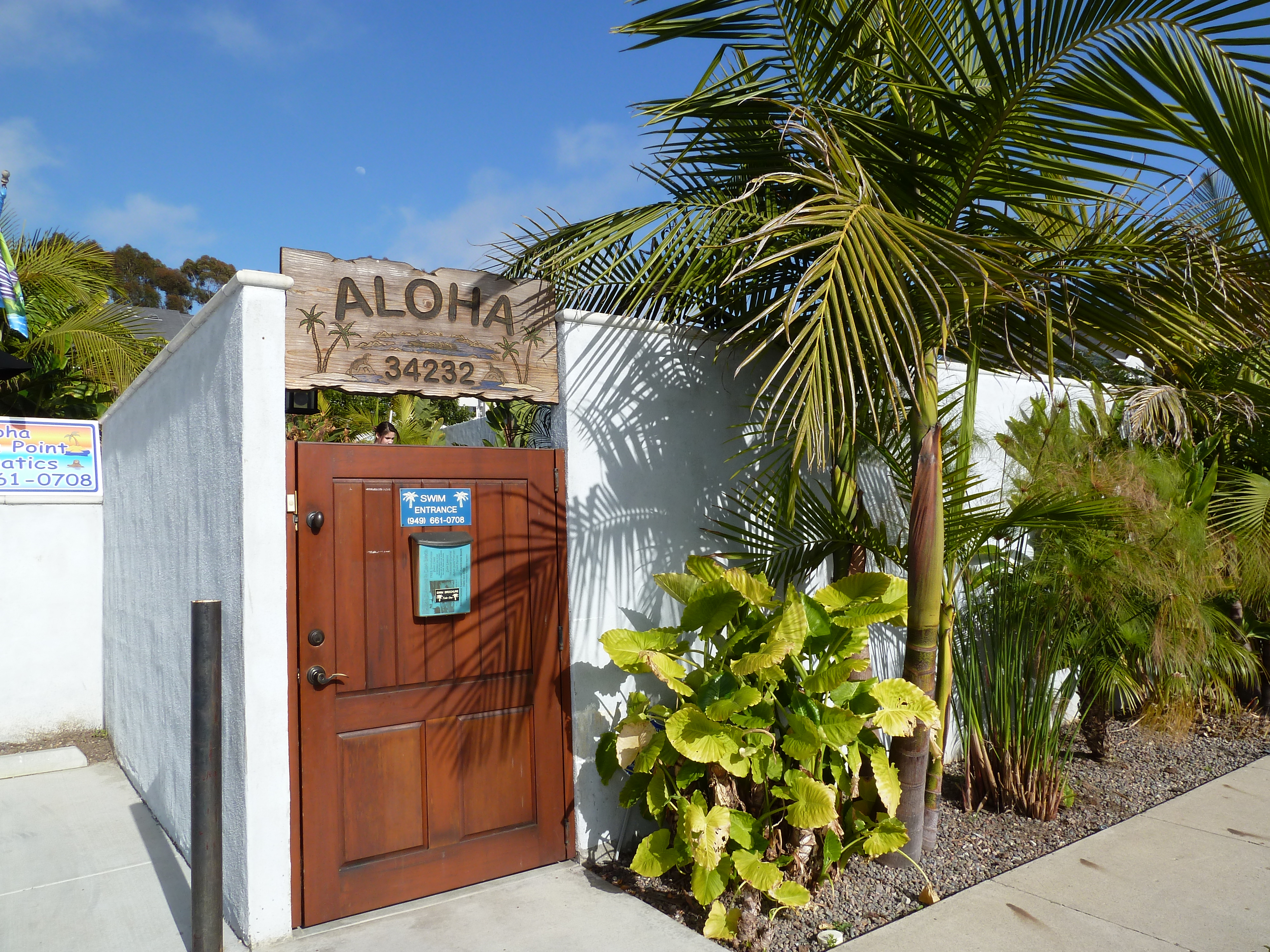 Illness/Covid Precaution Policy
We would like to keep it less crowded in the pool and pool deck area for safe spacing.
ABSOLUTELY NO ILLNESS of swimmer/parents/siblings/spectators.
This includes
Fever, Runny noses, Coughs, Sneezing, Contagious Diseases, Open sores, Diarrhea, etc. and any recent exposures.
Email us the night before or morning of each of their absent days and we will gladly give a makeup/s when they are 100% better. Please review the absence makeup policy on how to schedule makeup/s.
Face shields are required for parents in parent and tot classes.
Teachers wear face shields while teaching within 6ft of children.
1 parent per student allowed in the water for parent and tot classes.
No more than 1 spectator on the pool deck during your Child's lessons. However, only 1 car allowed to be parked in our parking area per family.
Siblings must be seated at all times during swim lessons or if there is pool space available, you can pay the $5 per person swim fee for them play quietly, monitored by you, away from the classes and instructors.
Do not enter the pool area more than 5 mins before the start of your scheduled class.
Children are allowed to get in the pool 5 mins before the start of the scheduled class providing there is pool space, they play quietly away from the other classes and instructors and you are monitoring them at all times.
When class is finished no lingering in the pool or pool deck area.
Ear infections
Can be common if you do not take precautions after each swim. Bacteria can grow if you do not dry the excess water. You can buy swim ear drops or make your own. 50/50 vinegar and rubbing alcohol.